SuperPro FOR HOLDEN COMMODORE VY-VZ VX REAR SUBFRAME FRONT BUSH RACE SPF3367K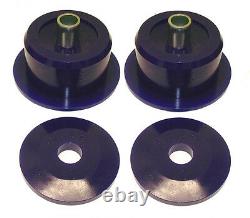 1 X SUPER PRO PRODUCT Dear Customer: Please make sure this is the item you are 100% after before purchasing. Please use the SuperPro online catalogue to confirm the correct part number with your vehicle.
SuperPro FOR HOLDEN COMMODORE VY-VZ VX REAR SUBFRAME FRONT BUSH RACE SPF3367K. SUSPENSION KIT - SUB-FRAME FRONT BUSH KIT. AXLE ALIGNMENT REQUIRED AFTER FITTING.
3.8 i V6 Supercharged. VT 3.8 i V6. VT 3.8 i V6 Supercharged.
VT 5.0 i V8. VT 5.7 i V8.
VU 3.8 i V6. VU 5.7 i V8.
VX 3.8 i V6. VX 3.8 i V6 Supercharged. VX 5.7 i V8. VY 3.8 i V6.
VY 3.8 i V6 Supercharched. VY 3.8 i V6 Supercharged. VY 5.7 i V8. VZ 3.6 i V6. VZ 3.6 i V6 All-wheel Drive.
VZ 3.6 i V6 Dual Fuel LPG. VZ 5.7 i V8. VZ 6.0 i V8. WH 3.8 i V6.
WH 3.8 i V6 Supercharged. WH 5.7 i V8. WK 3.8 i V6.
WK 3.8 i V6 Supercharged. WK 5.7 i V8. WL 3.6 i V6. WL 5.7 i V8.
WL 6.0 i V8. The specially blended Polyurethane used in SuperPro products has specific mechanical properties that make it extremely successful in its applications. The combined properties of extreme resistance to abrasion, low compression set, high tear strength, and a resistance to oils and solvents makes SuperPro ideal for most automotive applications.
These properties lead to a resilient product that is highly versatile in its various applications. Knurling is used to enable unrestricted pivoting of the polyurethane bush around the crush tube or any other mating steel surfaces. The knurling has inherent design advantages - reducing the surface area of polyurethane in contact with the crush tube, which results in less frictional force being developed.
The design of the SuperPro knurl bore combined with the integral grease retention lips, keeps the lubricating grease intact for the life of the bushing, and eliminates the necessity for periodic re-greasing. Bullet grooves are incorporated in the design of SuperPro bushes to allow for variances in control arm or spring eyes. The voiding and bullet grooves also allow for the transgression of displaced polyurethane into the volume of the grooves as the loads of normal vehicle operation are applied. Even though polyurethane is in a solid form when it is manufactured into bushes, its unique properties enable it flow in a manner similar to a liquid when loaded.
The action of the bush flowing into its voids prevents the generation of noise, vibration and harshness within the bush and its mount. Tangential Grease Grooves in Head. The tangential grease grooves in the heads of shackle bushes reduce the friction between the head of the bush and the shackle plates. The grooves store grease, which is smeared around the mating surfaces when the spring shackles rotate, forming a lubrication boundary layer.
This has the effect of minimising head friction and reducing noise. The Research and Development process for SuperPro products constantly gathers information and feedback to provide continuous product improvements. Superpro constantly re-engineers and tests its products on their own fleet of passenger vehicles and Four Wheel Drives. Cyclic testing is performed using specifically designed testing equipment, to offer valuable information on the life and durability of SuperPro products. Australia's diversely unique conditions provide the perfect testing ground for SuperPro products. Encompassing everything from extreme heat, dust, and harsh roads to race circuits, rally tracks, speedways and drag strips, SuperPro products are extensively tested in a variety of conditions to ensure the highest quality performance and reliability. SuperPro products are also further tested in the diverse climates of Africa, Asia, Australasia, Europe, Middle East, South Pacific, UK and USA. PHOTO IN THE LISTING IS FOR PRODUCT IMAGE ONLY. The item "SuperPro FOR HOLDEN COMMODORE VY-VZ VX REAR SUBFRAME FRONT BUSH RACE SPF3367K" is in sale since Thursday, April 21, 2016. This item is in the category "Vehicle Parts & Accessories\Car & Truck Parts\Suspension, Steering\Other". The seller is "togautogroup" and is located in Underwood, Queensland. This item can be shipped worldwide.
Brand: SUPERPRO
Manufacturer Part Number: SPF3367K